The perfect nature hashtags can accent your awesome pic or tweet and add so much to your post. It can also boost your likes and engagement.
But it's hard to come up with the perfect hashtag…so why not cheat and steal one (or more) from here?
Below is a massive list of popular, descriptive nature hashtags for you to use for nature photos, wildlife, pets, to describe yourself, where you are, and just about anything else you can think of!
Table of Contents
The 20 Most Popular Nature Hashtags
#naturephotography
#naturelovers
#naturelover
#natureza
#naturegram
#natureaddict
#naturephoto
#naturelove
#natureporn
#natureshots
#naturehippys
#natureonly
#naturewalk
#naturel
#naturebeauty
#naturesbeauty
#natureshot
#naturepics
#naturepic
#naturezaperfeita
Nature Photo Hashtags
#naturephotography
#naturephoto
#natureshots
#natureshot
#natureart
#naturepic
#naturephotographer
#naturephotos
#natureview
#naturescape
#natureshooters
#naturephotograph
#naturepicture
#natureprimeshot
#naturephotoportal
#naturephotograpy
#natureillustration
#naturefotography
#naturevisuals
#naturepictures
#natureshoot
#naturecaptures
#natureportrait
#naturecolours
#naturephography
#naturecapture
#naturephotgraphy
#Natureclick
#earthpics
#earth_shotz
#earth_portraits
#nature_photo
#landscapephoto
#ig_divineshots
#earthpic
#conservationphotography
#wildlifephoto
#wildlifephotographer
#naturegramy
#naturesart
#natureisart
#naturestagram
#naturevideo
#visual_heaven
#mountainscape
#natureloversgallery
#naturephotographers
#natureloversgallery
#naturephotographers
#natureshooter
#naturephotographers
#naturecolors
#naturepainting
#NatureGlobePix
#visual_heaven
Nature Hashtags To Describe Yourself in Nature
#NatureLover
#natureaddict
#naturegirl
#natureboy
#naturefreak
#naturechild
#naturebaby
#naturekids
#natureismychurch
#natureobsession
#naturehippy
#outdoorsy
#natureshooter
#naturephotographers
#naturelovers
#naturelusters
#natureromantix
#natureloversgallery
#natureseekers
#natureaddicts
#natureaddicted
Nature Hashtags for Animals and Wildlife
#naturedog
#animal
#animals
#wildlife
#wildlife_perfection
#animallove
#wildanimals
#wildanimal
#wildlife_seekers
#endangered
#wildlifeonearth
#wildlifeaddicts
#mammal
#bigcats
#bigcat
#biodiversity
#wildliferescue
#wildlifelover
#wildliferefuge
#wildlifephotos
#criticallyendangered
#wildlifephoto
#wildlifephotographer
Nature Hashtags to Describe What You're Doing
#Naturewalks
#naturetherapy
#naturetrail
#naturehike
#naturetrip
#natureadventure
#natureyoga
#natureplay
#hiking
#hike
#camping
#outdoorfun
#naturewalk
Nature Hashtags to Describe Where You Are
#naturepreserve
#natureofrussia
#naturecamp
#beach
#sunset
#landscape
#forest
#mountains
#river
#desert
#dream_spots
#naturepark
#NatureRussia
A Ton More Nature Hashtags for General Use
#nature
#Naturegram
#natureporn
#natureonly
#naturel
#natureperfection
#natureisbeautiful
#naturediversity
#naturegeography
#natures
#natureinspired
#natureatitsbest
#NaturesFinest
#natureheals
#natureswonder
#natureisawesome
#naturerepublic
#natureinthecity
#naturereserve
#natureelite
#natureisamazing
#natureofinstagram
#naturevalley
#naturepower
#naturelle
#natureaddictsun
#naturesmedicine
#natureworld
#Natureinstagram
#naturemorte
#naturesbest
#natureaddicts
#natureoftheplanet1
#naturejewelry
#naturesgym
#naturezaviva
#naturesgift
#natureloverforlife
#naturefrother
#naturetattoo
#nature2000
#naturewonder
#naturerad
#naturescandy
#natureskingdom
#NatureMag
#natureyes
#natureoftoday
#naturelandscape
#natureaquarium
#natureinspiration
#naturetravel
#naturezabela
#natureinthehome
#natureupclose
#natureblogger
#naturecalls
#naturewonders
#naturesgifts
#naturebrilliance
#naturemagic
#natureorganic
#natureatitsfinest
#natureperfect
#naturedesign
#natureblog
#naturesbounty
#natureisspeaking
#naturewins
#naturemoments
#naturebeautiful
#naturequotes
#naturerecordacn
#natureconservation
#natureflowers
#natureworship
#naturetrails
#natureaddicted
#naturefood
#natureaesthetic
#naturerepublicmurah
#naturelstone
#naturespirit
#natureswonders
#NatureGlobePix
#naturetime
#naturegraphy
#mothernature
#sunrise
#earth
#ocean
#natgeo
#outdoors
#outdoor
#natures_hub
#nature_of_our_world
#awesomeglobe
#ig_landscapes
#natgeohub
#natgeowild
#natgeolandscape
#natgeocreative
#planetearth
#ecology
#splendid_earth
#beautyofnature
#naturehub
#igworldglobal
#respectnature
#mthrworld
#majestic_earth
#saveearth
#loveearth
#earthexperience
#naturegood
#naturerocks
#natureloves
#earthawesome
#protectnature
#natureiscool
#natureislife
#appreciatenature
#natureisperfect
#naturewhisperers
#naturepolis
#naturelife
#natureinside
#naturen
#naturezalinda
#naturecolors
#naturepainting
#naturegramy
#naturesart
#natureisart
#naturestagram
#naturevideo
#visual_heaven
#mountainscape
#naturevibes
#natureza
How to Choose the Best Hashtag for Likes
Using hashtags has been shown to get you more likes and engagement than posts with no hashtags!
So you definitely want to use hashtags but how to choose the right hashtags? And how many should you use?
How Many Hashtags to Use
What you don't want to do is over-use hashtags. We've all seen those posts that are pretty much a novel made of hashtags. Nobody likes to see that because it's spammy and nobody reads all of those hashtags.
So how many hashtags can you use?
Instagram allows up to 30 hashtags and twitter allows as many as you want, but recommends using no more than two per tweet. Many social media marketers recommend 5-6 but fortunately there are actual studies on the right number of hashtags to get the most engagement from your posts.
It turns out that eleven hashtags or more gets you the most engagement on your posts.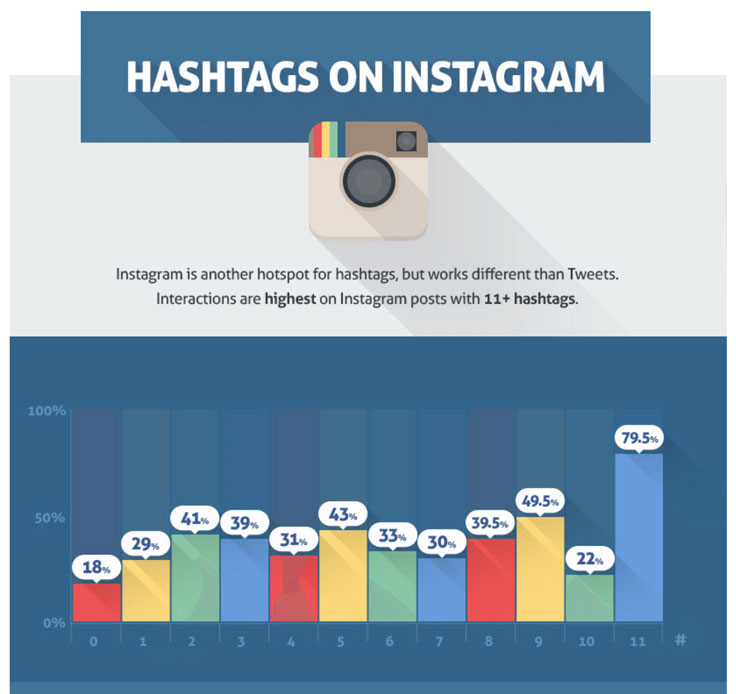 The key, though, is to not come off as spammy. Hashtags are supposed to add to and enhance your post, not be an advertisement for your post or be your entire post.
It's important to use only hashtags that are relevant and avoid spammy hashtags.
Hashtags to Avoid
First off, you don't want to just go for trending or overused hashtags. It's ok if they are directly relevant to your post but don't use popular hashtags just because they are popular or trending.
Fortunately, Instagram tells you how many posts use a hashtag when you type it in. Try to avoid using too many hashtags that have more than 10 million posts and focus on finding relevant ones that have less than 500,000 posts.
You definitely want to avoid super spammy hashtags that shamelessly aim to get followers, like #FollowMe.
How to Find Great Hashtags
Well, you did the right thing. Often times, the best hashtags are found on lists like this one that give you unique ideas related to your post.
The second best resource is the platform itself. Type the first hashtag that pops into your head and both Instagram and Twitter give you suggestions…scroll down and pay attention to them. Sometimes you find a gold nugget in there.
Finally, you could use a tool. Apps like RiteTag will suggest hashtags for you based on the text of your post.
Tips to Get More Likes on Your Posts
1. Use the Mayfair Filter
The Mayfair filter creates "a warm pink tone, subtle vignetting that brightens the center of the photograph, and a thin black border." -according to Instagram.
But the important thing to note is that studies have shown the Mayfair filter results in the most engagement, above any other filter.
Coming in second was #nofilter, followed by Inkwell and then Walden.
2. Only Post Your Best Photos
If you're flooding your social media with posts every ten minutes, your posts tend to get ignored. Select your best pics or only when you have something interesting to posts.
Which posts in the past got the most likes and engagement for you? This is a good indication of the types of posts your friends and followers like to see.
3. Post at the Right Times
Yes that's right, when you post matters.
Your tweet at 3am is likely to be buried way down in your friend's feed by the time they wake up and get on Twitter. And by then, it's less relevant to them.
You want your post to show up when your followers are likely to be online because almost all social media platforms prioritize new posts.
The best times to post on Instagram are midday – around 12-2pm. Peak times for Twitter are a little earlier in the day – about 9-10am.
You can use a tool like Hootsuite to schedule posts and post on multiple social media platforms at once.
4. Go for Likes on Instagram and Conversation on Twitter
Instagram is not built for conversations. It's just too easy to double tap for a like and scroll on.
That's why there's only one comment for every 33 likes on average!
So it's not worth trying to start a conversation on Instagram. Rather than posing an engaging question, just caption your photo with something thoughtful. Save those questions for Twitter because…
Twitter is built for conversation. Try coming up with a question people can't help but answer like…"Brush before flossing or floss before brushing?"
5. Use the Right Hashtags
Hashtags add a bit of flair to a post but also help you get found by more than just your closest followers. You can join a trending conversation or leave a lasting hashtag so your tweet will be found in a search for a long time to come.
For maximum engagement, use at least 11 hashtags (see section above on hashtags) but be careful not to get too spammy and don't go overboard – 30 is probably too many hashtags!
Final Thoughts
If you didn't find the perfect nature hashtag here, you're not likely to find it. Hopefully, you found several to use because the right number of hashtags for maximum engagement is eleven. Just make sure you don't sound spammy by using way too many hashtags or by using irrelevant, generic, or overused hashtags.
Love nature? Did you know it's also good for your health? No, really. Science has shown there are 7 real health benefits to spending time outside!
You also might want to check out the best outdoor blogs I've found throughout the internet including best outdoor photography blogs!
Hey, you're going to need to save this post for next time you need more nature hashtags so why not pin this awesome pin I made just for you: